Kilimanjaro Climbing Options
Once you have made the decision to climb Mt Kilimanjaro you will start thinking about who you want to trek with and when you want to climb. We offer different climb options to choose from.
Scheduled Open Group Climbs - If you are alone and would like to climb with other people then our scheduled open group climbs would be a good choice. 
Private Climb - We run treks for groups who would like to climb on a specific date and a specific route.
Charity Climbs - You can climb Kilimanjaro and raise money for a charity close to your heart.
Corporate Climbs - We offer treks on Kilimanjaro to companies as a team building experience.
KILIMANJARO OPEN GROUP CLIMBS
We run scheduled open group treks throughout the main seasons via the most optimal routes for summit success and acclimatization opportunities. Each group has a maximum of 12 places. We don't believe in creating large trekking parties as it detracts from the experience. Keeping the party small creates an intimate setting on the mountain, but more importantly ensures proper attention for each and every climber.  A minimum of two persons are required on any open group expedition for it to run.
Start Your Adventure
Choose one of our most popular routes
KILIMANJARO PRIVATE CLIMBS
What happens if there are no treks on the date you would like to climb?
If there are two or more of you, we can arrange a trek for whatever dates you want, and on whatever route you want – for the same price as if you had joined one of the scheduled open group treks  (and, again, if there are three or more of you it will actually be cheaper than the prices advertised). Please note that, unless you specify that you want a private trek, we will try to add other trekkers to your party by advertising your climb on our dates & prices page.
KILIMANJARO CHARITY CLIMBS
Climb Kilimanjaro and raise money for a cause close to your heart
Do something amazing and climb Kilimanjaro for charity. Do you as individual or small group want to climb Kilimanjaro for charity? Whether you are joining one of our open groups or are taking part in a private climb we are here to help you raise money for charity. 
1. SIGN UP
Sign-up to any of our standard open group Kilimanjaro treks, or create your own private trek.
2. JUST GIVING PAGE
Setup a fundraising page for your chosen charity on JustGiving. Send us the url once you've done this.
3. FUNDRAISE
Promote your charity challenge to friends, family and colleagues using social media.
4. ON GOING SUPPORT
We will give you support and motivation every step of the way. Contact us for any questions.
KILIMANJARO CORPORATE CLIMBS
We are always keen to work with organisations from any sector and we understand what the benefits to our clients can be by working and climbing as a team in the hostile environment that is Kilimanjaro. The emotions, the struggles and the joys of climbing Kilimanjaro are all part of an unforgettable experience and a learning exercise that can be utilised long after everyone has returned to the office and their everyday lives. Climbing Kilimanjaro has a positive effect on everyone who attempts it and we have created a bespoke team building package that can be utilised by any organisation.
Open Group Climb
Join one of our scheduled climbs
Private Climb
Climb a route & date of your choice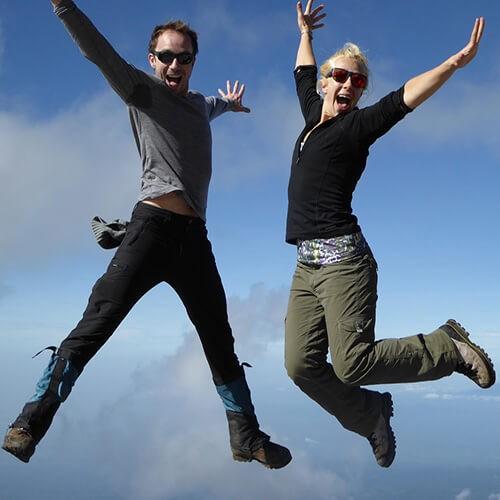 Charity Climb
Climb Kili for a cause
Corporate Group Climb
A great team building experience